The Ultimate Guide for Hiring A DJ For Your South Asian Wedding in Texas
If you're new to the intricacies of planning an Indian wedding ceremony, you've probably been thinking about how you want your event to unfold. As a bride-to-be and groom-to-be, there will be plenty for you to consider on your personal journey to the mandap. This means that your vendors are just as important as other things such as your wedding outfits, venue, and even the flowers you'll be using. But what about the entertainment? Most wedding guests remember the food, drinks, and how much fun they had, which usually means music and dancing.Making sure you have a talented Indian wedding DJ will ensure your guests have a good time.
If you're looking for best in class entertainment, the first place to start is with your DJ. This person will help create an ambiance for each event and set the tone for how much fun everyone has. It's important to plan ahead by providing your DJ with a detailed schedule well before your wedding day. By doing so, you'll help ensure that everything goes off without a hitch!
Before interviewing Indian wedding DJs to work with you, we wanted to highlight what is most important to keep in mind.
Source: DJ Riz
Why Your DJ is More Important Than You Think
Professional Experience Can Be Valuable
The songs, the planning and the environment for weddings is different from what is seen at other celebrations or parties. The songs that you enjoy everyday might not be wedding-appropriate or may not be suitable for a particular moment of a certain event. This is why your friend who usually has the best dancing playlists may not be qualified to manage the tracks for the various phases of your sangeet, wedding ceremony, and other wedding events; and bringing in a professional DJ will most likely be a better option for you. The DJ will make sure that a room full of guests from differing age groups have a fantastic time and your wedding includes a blend of diverse genres and music styles.
Asad Motiwala from the Outspoken Visions considers his role as a DJ to be the life of the party! He says, "[A] live DJ will always be able to read the crowd and adapt to the environment with the music selection, and it is not something any playlist can do. A live DJ will always bring you more and keep your crowd entertained. I am responsible for keeping the reception on track with the program but at the same time making sure the vibe is right, so everyone is having a good time."
Creating Great Memories And Setting the Mood
When you think about Indian weddings you've attended before, other than the huge number of relatives, what was most memorable about the ceremony? Perhaps the ambience, maybe even the decor and outfits, but most likely you'll remember the fun baraat and the melodious bride and groom entrances or exits. The songs tie everything together and make the ceremony memorable and beautiful. Right from the arrival of guests, a skilled and experienced Indian wedding DJ will understand how to strike a balance between setting different moods from fun to emotional to beautiful to bringing the house down at the reception.. They will make sure to feature your favorite singer, play a song that defines you as a couple, highlight your preferred genre and how to express your love story through music on your big day.
Entrance music can be one of the most important components to help announce the "start" of an event. Ankit Patel aka The Shehnai Guy says "The shehnai is the wedding instrument, creating a sacred and traditional atmosphere. I consider myself the musician during a wedding ceremony who not only plays live shehnai but also plays the entrance songs (be it live or via MP3)."
Indian DJs Provide Reliability
During the different events of an Indian wedding, there are a lot of things that do not go as planned. You might overlook small details, misplace countless belongings, the timing of your bridal entry may be off, or there may just be some last minute family drama delaying an event start time.. There are a lot of scenarios where things may not go as smoothly as you had expected but a seasoned DJ has seen these situations before and with years of experience, will know how to handle them. Professional DJs understand how much effort is put into planning and executing a fantastic wedding, and will do all necessary to ensure that your event is stress-free. This frequently entails going above and beyond the call of duty. They will know when to make emergency announcements, add a few songs if the schedule changes and come up with interesting games right on the spot.
Music Selection and Versatility
DJs can seamlessly transition between songs, genres and artists. They know what to choose from their extensive library of thousands of songs at any time from the top Bollywoods hits to America's Top 20 songs to 90's hits if that's what you want. Taking requests from guests, and changing the mood of the evening in a moment can be done effortlessly by an experienced DJ, whose versatility and quick timing are the best qualities. Professional DJs often double up as emcee and oversee the entire ceremony. From inviting guests to their seats to welcoming the bridal party, they take command of the schedule and direct the whole evening. Their confidence and charm comes from years of experience on the microphone and they can do such a great job that you won't even notice them.
DJ Dholi Jag from NachLe DJ says, "As a DJ, we keep the guests informed at all times whenever giving general announcements or announcing entrances, etc. We also need to keep guests entertained wherever possible."
DJs Give You Great Peace of Mind
You'll be able to cross one more item off your to-do list once you've hired your wedding DJ and have peace of mind knowing that one of the most critical aspects of your night's success is in the hands of a pro. You'll know they have the necessary knowledge, a well-drafted contract, a diverse music selection, and will work with you every step along the way.
Ankit Patel aka The Shehnai Guy from Atlanta, Georgia says "Remember, as much fun and as exciting as getting married is, the wedding ceremony is first and foremost a religious ceremony. The music should reflect that sentiment. Save the crazy stuff for the reception."
Source: NY Times
Things To Consider Before Your Hire A DJ
There are few things that make a huge difference to the success of your Indian wedding. The DJ is one of them. Hiring a good DJ will make all the difference to how smoothly your wedding day goes. There are many factors you need to consider before hiring a DJ for your wedding. Take a look at the points below to make the best out of an Indian wedding DJ for your luxury Indian wedding.
What Do They Do When People Don't Dance?
It might take a long time for guests to warm up. You should inquire about your DJ's plans for dealing with this all-too-common issue. Do they take the microphone and cheer on the crowd? Would they leave the stage and walk among the guests? Is starting with a father-daughter dance and gradually inviting others to join in the right option for you according to the DJ?
Some DJs simply play songs and leave the rest to you but a typical big fat Indian wedding may require more than that. Make sure your DJ isn't afraid to read and engage the crowd when necessary.
Dholi Tarak Shah says, "I'll walk through and to every corner of the dance floor, making sure that the floor is rocking! I will also join and dance with the crowd as I play!"
How Do They Mix and Vary the Music?
A professional Indian wedding DJ will know which song to play at the right moment. For example, the guests might not want to immediately dance to 'London Thumakda' after the heavy buffet or listen to an emotional song at a cheerful moment. So, how does a DJ manage mixing popular R&B songs with Bollywood music?? What about adding your favorite Spice Girls, Britney Spears, and Backstreet Boys tracks if you are a 90's fan? The DJ does not have to spill all of their secrets, but an expert should know how to handle every scenario and how to keep the guests on the dance floor. They should know when a song is working or when a genre is falling flat.
DJ Dholi Jag from NachLe DJ says, "We take requests however that doesn't mean we'll play what has been requested. We'll keep it in mind to see where we can fit the songs and if the song will do well on the dance floor in general."
The DJ's Personality
This is the one piece of advice we cannot stress enough about!
Your DJ will be in charge of creating the mood for the occasion. If your DJ is dull, your event will be dull as well. The most significant hint you'll get from a DJ is his or her personality. Talk to your DJ in person or over a video call to discuss your events, needs, and special requests instead of depending on emails and texting. This conversation will help you feel confident about hiring a DJ or musician..
Ankit Patel aka The Shehnai Guy says "I'm sure most people would agree that live music has a vibe like no other. A live shehnai is a staple in traditional Hindu weddings and really lifts the audience to an elevated state. Also, a live shehnai is so rare (versus a sitar or flute)!"
What's the Process for Song Requests?
There will be guests, family members or friends approaching the DJ and asking them to play a certain track which they must have 'enjoyed during high school'. But chances are that the song isn't exactly appropriate for the event. An experienced DJ will know how to handle the requests and when to play the songs at the right time. We recommend asking your DJ questions such as "Do they take requests beforehand or during the event?" and "Do they take a no-play list?". They will manage to blend them into the night and make options for when to do it, and be able to accommodate a large number of them on your big day.
Do They Emcee or Provide Extra Emcee Services?
Most Professional DJs will offer basic emcee services along with DJing such as announcements, entry of the bride and groom, and all the major dance performances. Some DJs will also have additional packages for audio editing of the performances and ice-breaking games and activities. Make sure to ask your DJ about these services to make the most out of your contract.
Asad Motiwala from the Outspoken Visions also offers emcee services and as an MC, he is "professional when I need to be and full of energy when I need to be as well."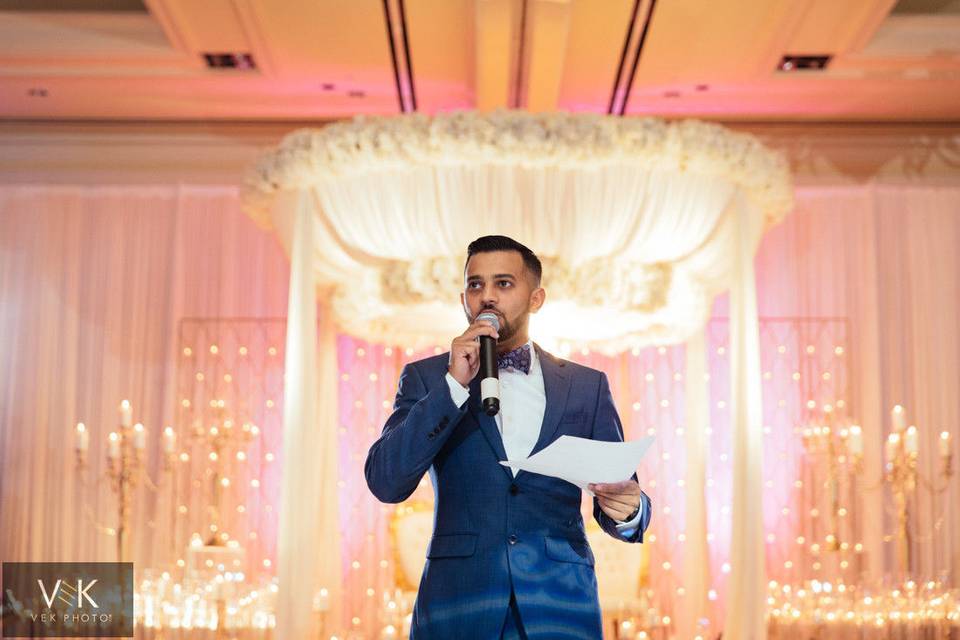 How do they work the Baraat?
In Hindu weddings, the Baraat is an important wedding tradition that has also become one of the most exciting and momentous events of weddings over the years. The 'Dulha' or the groom comes on the horse (or a convertible, elephant, or on foot) to whisk the bride away and dances to the beat of the Dholi and DJ with his family and friends. For this procession, the DJ must provide a mobile sound system from where they can blast the songs as well as emcee the baraat to get the guests grooving to the joyous occasion. Apart from this, the DJ will also need to coordinate with the Dholi to ensure the music is in sync.
Dholi Tarak Shah says, "I can improvise to any type of music, so there is typically not much prior coordination needed. When a client needs a specific time for the dholi to play during an event, I will be by the DJ to get the cue of when to play for a specific song. If possible, I will sometimes ask to hear the song in private prior to the actual performance to be familiar with it."
Social Media Presence
The social media handles of DJs are also their portfolio as well as their marketing manager. Any previous nightclub gigs, youtube channel updates, or blogs will highlight the DJ's style and personality, show testimonials from their previous clients and help you in your selection.
Lighting and Other Equipment
Other details that you need to discuss with your DJ will be lighting and other equipment. Do they want you to make the arrangements, or does the DJ need assistance from your venue to set up their microphones and speakers? Most DJs come equipped with all the tools necessary to make your wedding a success. When in doubt, make sure to ask all of the questions you have, especially questions around how long the DJ and musical team need to set up their equipment. Many South Asian DJ businesses include lighting as part of their whole package. Lighting is crucial for any event since it sets the tone for your images as well as the overall ambiance and décor. Uplighting can accentuate an empty ballroom and help create a luxurious aesthetic balanced with decor. Finally some DJs also offer custom or monogrammed dance floors. Ask your DJ lighting, dance floors and other services they might offer like a photobooth.
Outspoken Visions provides lighting, photo booth, dhol players, led screens, projectors and screens, special effects like dry ice cloud effects, indoor sparklers, and a lot more.
Other Important Questions You Can Ask an Indian DJ
Apart from the above-mentioned important details, some other questions you can ask your DJ are whether they have worked in your venue before and what details they need before they offer their contract. If it's important to you, you can also ask them if they have songs in specific regional languages of India.
Conclusion
When it comes down to hiring a DJ for your Indian wedding, it's best that you do your homework before contacting anyone. Not only will this give you a better idea of what to expect out of the experience, but you'll also be prepared to discuss exactly what you want with whomever you end up hiring as a DJ.
Check out all the DJ/Entertainment vendors and other wedding planning ideas on The Desi Bride for your Indian wedding.
Need help planning your dream Indian wedding in Texas?
Find top Indian wedding DJs in Dallas here
Find top Indian wedding DJs in Houston here
Find top Indian wedding DJs in Austin here
Find top Indian wedding venues in Dallas here
Find top Indian wedding venues in Houston here
Find top Indian wedding venues in Austin here
Find top Indian wedding hair & makeup artists in Dallas here
Find top Indian wedding hair / makeup artists in Houston here
Find top Indian wedding hair and makeup artists in Austin here
Fly in luxury celebrity Indian photographers for Texas Desi weddings from this list
Find other Indian wedding vendors for Texas South Asian weddings on The Desi Bride