To the couples getting married during this pandemic, masks have quickly evolved to become beautiful, fun and personalized and an integral part of weddings. They can be an accessory to your wedding outfits and a fun element that your guests go home talking about. To help you get inspired and find the right masks as your plan your South Asian wedding or other events, we put together a list of five companies worth taking a look at.
Glamorous masks to match your wedding outfits: For $20-30 per piece (less expensive if you buy in bulk), B Anu Designs offers a range of sequin, brocade, and embroidered masks on silk and cotton in many colors. They also custom design masks to match your outfit or for your guests to personalize their experience. For every mask purchased through them, they donate 15% of proceeds to Edgewood Center for children and families, supporting youth through life's challenges via behavioral and mental health services.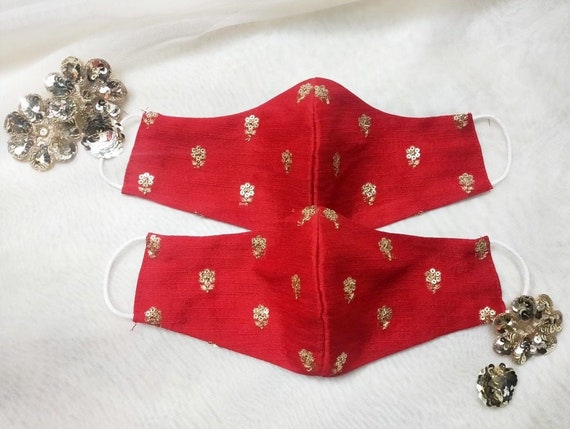 Elegant masks for your early winter / spring wedding: At $20 per mask, Sithara by Sriya offers beautiful cotton georgette with crepe back satin lined masks. With the gorgeous embroidery and floral patterns, they're perfect for your bridesmaids or your favorite aunties. Sriya started her academic career focusing on helping people through science and medicine. After seeing how fashion can have a profound influence on customers' lives through her work with a South Asian clothing marketplace, she decided to build Sithara, "an embodiment of elegance, simplicity & versatility."
Back to the basics with sequins: At $30 for a 3-pack ($10 each), LUKH Studio offers a cotton variety pack with black, beige and golden sequined masks. They're easy to match with any outfit and add just a little bit of sparkle at your special event. LUKH donates a 100% of the proceeds from mask purchases to United We Mask and the Boys and Girls Clubs of America.
Fun, Desi-inspired and reversible masks: At less than $15 a mask, Modern Desi offers bright colored reusable and reversible masks that include a Desi slogan. They even allow you to customize sizes for kids. We love the bright and bold colors as they go well for any guests who want to "make some noise" in the baraat! Modern Desi began as a passion project to create bridal shower games and wedding-oriented items for those who live outside the homeland. The Founder, Aanal Patel, has since expanded outside of wedding parties and ventured into anything and everything she can create, embracing two unique and beautiful cultural identities fused together in seamless yet empowering products.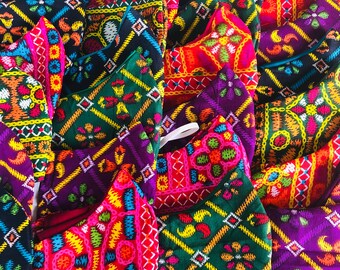 Budget-friendly, personalized disposable masks: At less than $3 a mask, For Your Party.com offers customizable masks for your guests. You can either select one of their designs like Quarantined for Life (shown below) or Spread Love, Not Germs, or you can design your own mask with customized text, artwork, and color. Sari Mintz started For Your Party.com in 2004 to help customers easily design personalized party accessories while experiencing best-in-class service. Visit their profile to learn more.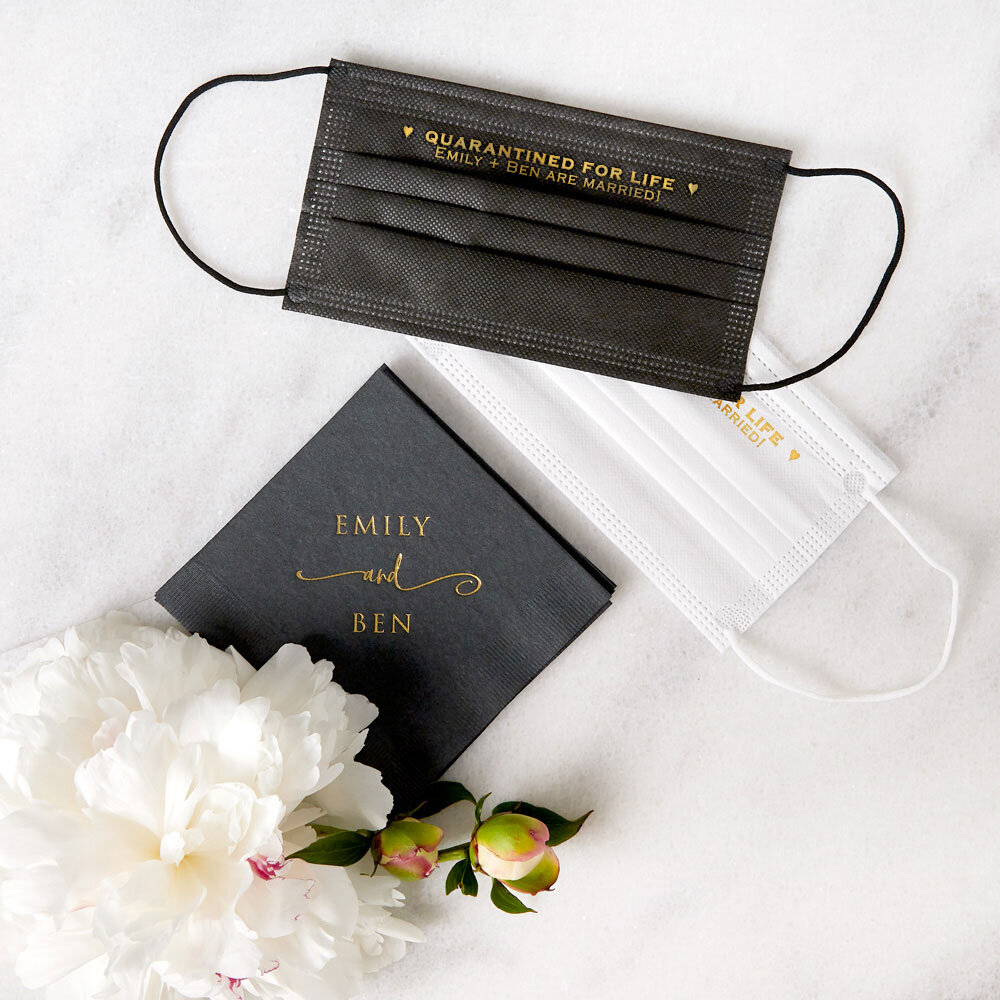 Please note that these masks are not medical-grade masks or surgical masks. Please reference the CDC guidelines to learn more about how to wear masks correctly, recommended healthy habits, and removing or washing your mask. If you are planning to have a virtual stream, please check out our tips on how to successfully live stream your #bigfatindianwedding.
Finally, if you are looking for support in observing safe practices during your Covid-19 wedding to give you and your guests some peace of mind, please visit our Covid-19 Wedding Concierge or email hello@thedesibride for more information. Stay safe, and spread love, not germs!
Need help with planning your dream Indian wedding in Dallas, Houston or Austin?
Use The Desi Bride Wedding Venue Concierge to find your luxury wedding venue
Find top Indian wedding hair & makeup artists in Dallas here
Find top Indian wedding hair / makeup artists in Houston here
Find top Indian wedding hair and makeup artists in Austin here
Fly in luxury celebrity Indian bridal hair and makeup artists for Texas Desi weddings from this list
Find top Indian wedding photographers in Dallas here
Find top Indian wedding photographers in Houston here
Find top Indian wedding photographers in Austin here
Fly in luxury celebrity Indian photographers for Texas Desi weddings from this list
Find other Indian wedding vendors for Texas South Asian weddings on The Desi Bride
Cover Photo: B Anu Designs