Now that you've gotten the vendors booked and big details out of the way, you may be wondering what you can do with all your spare time and look for ways to jazz up your wedding! While décor and food are definitely memorable, a lot of the guests leave remembering the small touches. Below are some ideas on how you might be able to add special touches to your special day!
Gifts for your guests: Now is your opportunity to come up with something other than the standard favor that ends up being donated. Whether it's edible (make your own candy bag, donuts to go, cake pops), DIY (photo coasters, tea or hot cocoa kits) or something bulk purchased (candles, mithai). Note that packaging can really make a $10 gift look $25.
Wedding program: Desi weddings are complex and hard to follow at times, especially for guests who have never been to a Desi wedding before. Work with your priest to determine the events and order of events during your wedding ceremony, and then spend time verbalizing what each of those ceremonies actually means for you and your significant other. It's an opportunity to customize the ceremony to make it feel more "you." You can even work with an artist or designer to draw out what each of the rituals is and create a beautiful keepsake program for you and your guests. Find stationery vendors that will be able to help you design these programs on The Desi Bride.
Hindu wedding program by Puff Paper Co
Wedding Logo: You can use your wedding logo as much or as little as you like from the invitations to signage during the wedding to thank you letters afterward. If you have a creative friend, reach out to them for help, or alternately use an online resource like Minted or Etsy.
Choreographed dance(s): Now that you have time, find a friend (or yourself or a remote choreographer) to pick your favorite songs and learn a dance. If you're ready for a choreographer, check out some of the top choreographers in Dallas and Houston on The Desi Bride.
Table centerpieces: Come up with what themes you and your significant other have in common (movies, countries you've traveled together to, sports teams), or consider even using framed engagement photos across tables.
Cake topper: While this cake topper will probably only be seen closely by you & your significant other and in pictures, it can be keepsake. Considering having a cake topper designed with you & your SO or a hashtag. You can keep the cake topper as a keepsake and resuse on future anniversaries.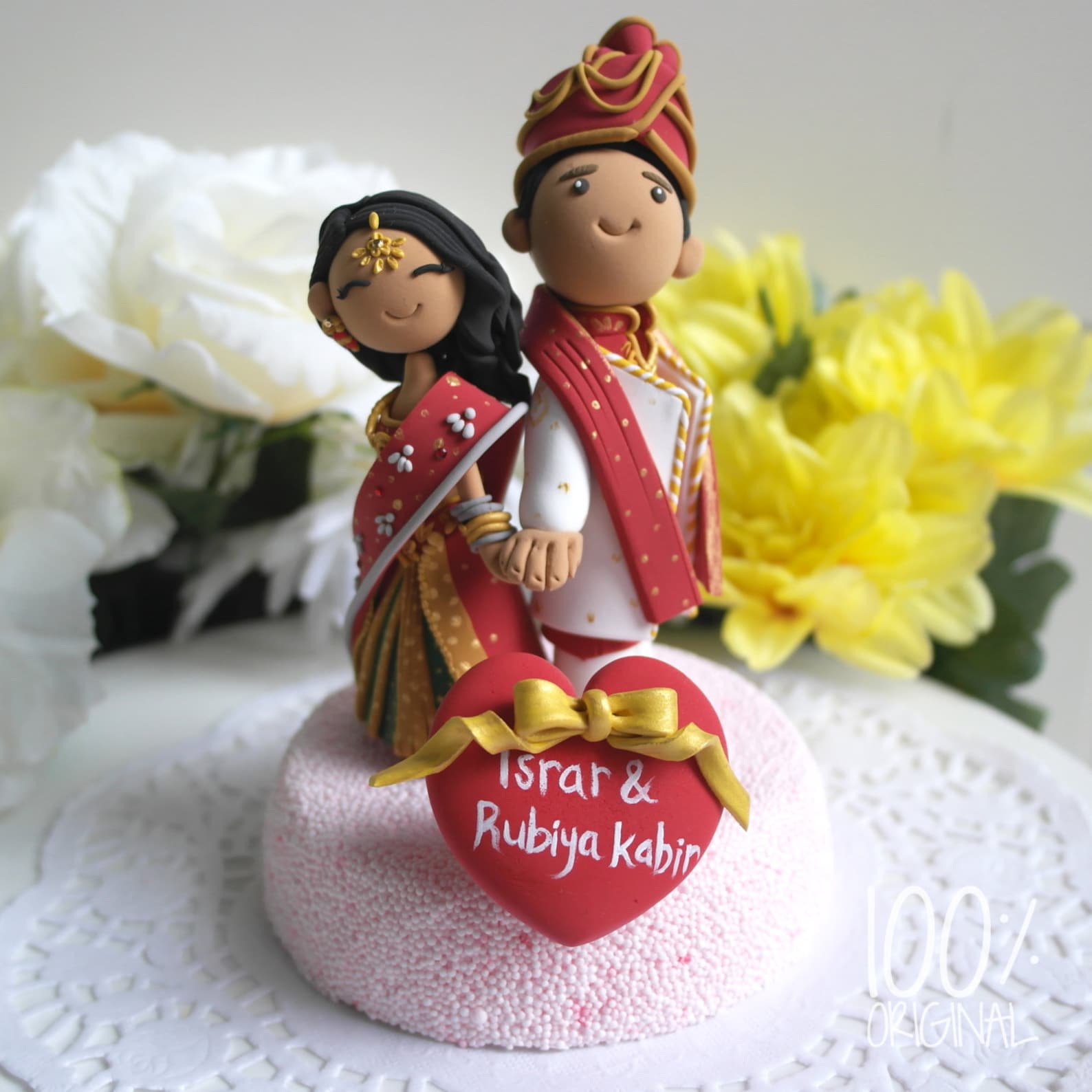 Custom desi wedding cake topper by Hara Kang
Bridal Mehndi: Bridal mehndi is often an afterthought. Consider thinking through your story and what stands out about you and your significant other to work with your mehndi artist and design your mehndi accordingly (e.g., where you met, favorite sports team, where you went to school, hobbies, profession etc). Once you are ready to pick a mehndi or henna artist, The Desi Bride has several of the best mehndi artists in Texas to pick from.
Signature cocktail or drink: Work with the bartender to create a signature drink in honor of your wedding.
Need help with planning your dream Indian wedding in Dallas, Houston or Austin?
Use The Desi Bride Wedding Venue Concierge to find your luxury wedding venue
Find top Indian wedding hair & makeup artists in Dallas here
Find top Indian wedding hair / makeup artists in Houston here
Find top Indian wedding hair and makeup artists in Austin here
Fly in luxury celebrity Indian bridal hair and makeup artists for Texas Desi weddings from this list
Find top Indian wedding photographers in Dallas here
Find top Indian wedding photographers in Houston here
Find top Indian wedding photographers in Austin here
Fly in luxury celebrity Indian photographers for Texas Desi weddings from this list
Find other Indian wedding vendors for Texas South Asian weddings on The Desi Bride