By Anushuya | Featuring Ms. Painted Lady | 21 Jun 2021 | 11 min read
Alexandria Angel, better known by her professional and brand name Ms. Painted Lady, is a make-up artist specializing in Indian and Pakistani bridal makeup. Her business caters to all wedding types and covers hair, makeup, jewelry, and dupatta settings as well. With over 13 years of experience as a South Asian luxury makeup artist, Alex is an industry veteran who prides herself in her fast, professional and dedicated service. The Desi Bride interviewed her to talk about what it means to be on your skincare A-game before your wedding. Read below to learn more about Ms. Painted Lady's perspective on bridal skincare and visit The Desi Bride to find your wedding hair and makeup artist, luxury Indian wedding venue, South Asian wedding photographer, or other vendors in Dallas, Houston, and Austin today.
WITH 13 YEARS OF SKIN IN THE GAME, HOW HAVE YOU SEEN THE WEDDING MAKEUP INDUSTRY CHANGE?
There's like so many things that have changed in the industry, for sure. Even before it was called a "selfie," we used to take a windup disposable camera and flip it backward. And like, you'd take a bunch, because you never knew which ones would turn out blurry or which ones would show up well. (laughs) But yeah, we had this-- it was called "The Book." The Book was all of our selfies, essentially, that we had gone to Walmart, printed out, and pasted there. But now, as you know, everybody has the luxury of access at their fingertips at all times.
WITH THE RISE OF SELFIES CAME SOCIAL MEDIA...HOW DO YOU FEEL ABOUT SELF-TAUGHT AND FREELANCE INDIAN WEDDING MAKEUP ARTISTS WHO ARE GETTING INCREASINGLY POPULAR?
When I see these videos of artists...there are some really talented artists that I follow on Instagram, and they're applying products directly to people's faces out of the tube? And I'm like, are you gifting these items to these clients after you do this to every client? Like swipe dip, next client, swipe dip. That's the thing, if you're not actually trained on proper sanitation policies and procedures, how to keep your clients safe, especially in a pandemic, right now, that to me is super frightening. Seeing people that are cross contaminating products and things like that? That part scares me.
And then you have the other end which is, okay, so you're good at makeup. That's great. How are you serving the client? If you're not organized, and you're not prompt at responses and things like that, like, is your bride stressing out and wondering if you're going to no call no show? ...If you're an individual, and not an actual DBA or sole proprietor -- whatever the case -- then you're hiring somebody who's a freelance makeup artist, and you're really running the risk of somebody who doesn't have a lot to lose as far as the reputation [goes].
TL;DR: For your South Asian bridal makeup look, book an artist experienced with Desi weddings. Consider an bridal makeup artist's experience, organizational skills and reliability before booking your Texas wedding makeup artist.
ON THE COMPARATIVE, WHAT'S YOUR SUGGESTED TIMELINE FOR BOOKING A TOP INDIAN WEDDING MAKEUP ARTIST LIKE YOURSELF?
Most people are booking us out about 12 to 18 months in advance. Because even venues and stuff are booked out 12 to 18 months in advance. I would say it's whatever the bride and groom actually prioritize, but most of our brides prioritize obviously locking the venue because that requires the date. And then hair, makeup and photo and video.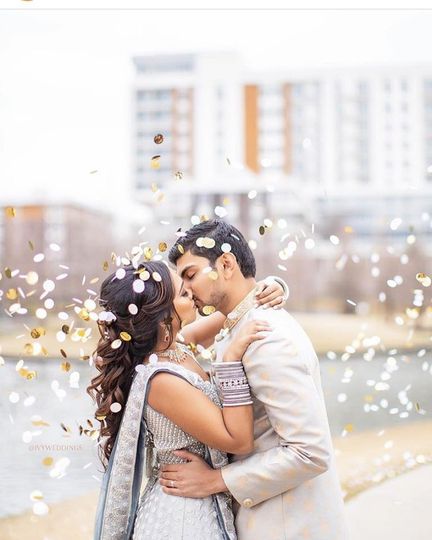 LET'S SAY A SKINCARE DISASTER HAPPENS ON THE DAY OF YOUR INDIAN BRIDE'S WEDDING -- HOW DO YOU DEAL WITH ACNE, CYSTS, AND ALL THE UGLIER POSSIBILITIES OF D-DAY?
There are actual injections that you can do into the actual site [where the blemish is]/ And that could be administered by a nurse or at a Med Spa or whatever the case. They can inject [it] directly into the site. And within 24 hours, it's gone. So if there's anything cystic and huge that pops up disastrously, you could do that. Or they have acne patches that you can get from like Sephora or even Walmart.
O.K., BUT THAT'S FOR A LAST-MINUTE DISASTER. HOW DO YOU WORK WITH DESI BRIDES TO ENSURE SOMETHING LIKE THAT DOESN'T HAPPEN?
As far as preparation [goes], I try to really only have brides take their skincare seriously about four to six weeks prior [to the wedding] just because everybody's lives are so busy, they're usually not going to keep up for anything further out than that.
I do have some brides who have been phenomenal about it. They actually go to the Med Spa; they get a 12 monthly bridal package; and they go in for their routine photo facials or hydra facials and their chemical peels every single month. And so by the time I'm seeing them 12 months later, they have like absolute baby skin, and their pH is so perfect, that everything holds up so well.
I'm the type of person who, especially with this whole no skin or no makeup skin look, I prefer to not use powder if I don't have to. Because the more powder you use, the more layers it adds. And especially in high def, it just looks a little less natural. So I like the whole Charlotte Tilbury glowing, translucent skin trend. But you can only get that if the skin pH is balanced. So to start a skincare routine, I always say, "This is your little bit of self care that you can do every single day, five minutes in the morning, five minutes in the evening."
TL;DR Start thinking about a wedding skincare routine about six weeks prior to your Indian wedding. The earlier the better for your flawless Indian wedding makeup look.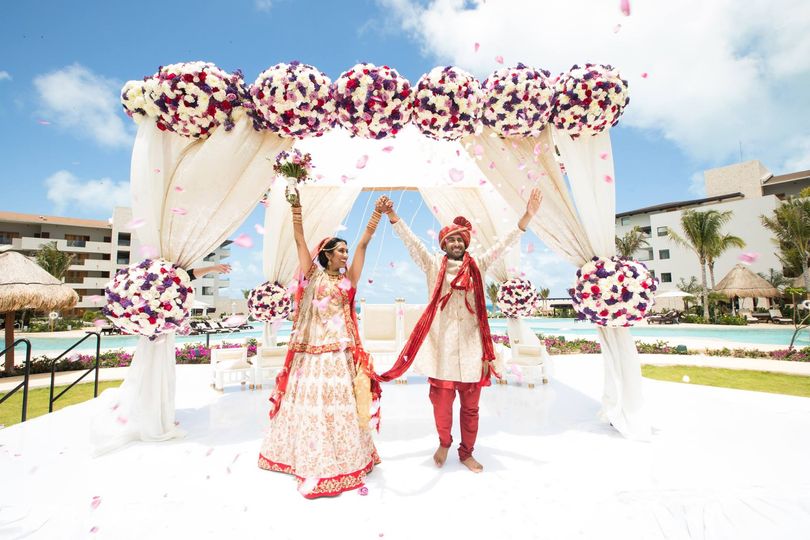 ARE YOU WORKING WITH ANY INDIAN BRIDES RIGHT NOW ON THEIR WEDDING SKINCARE GAME?
A lot of our brides this year are not able to make it in for trials weeks prior [given the pandemic and micro wedding scene]. I just met [this bride] for the first time in person yesterday but we have been consulting with each other for weeks now through email. And she just described kind of what her skin's going through and what her skin goals are. And then I based off, you know, assessment, I'll give her an apt routine. And so she's on a routine, she said that her hydration content has gone up or clarity has gone up, and all those sorts of things that she's seen a huge difference. We'll assess after a few weeks and if she doesn't feel like she's seeing a visual improvement, then we'll have to go to a natural esthetician. I even looked up Yelp reviews of different you know, med spas within her area that she could go to to get a further evaluation.


WE'VE TALKED A LOT ABOUT INDIAN BRIDES. WHAT KIND OF SERVICES DO YOU OFFER YOUR GROOMS?
Usually, the brides are the only ones I'm consulting with and then [I work on] the groom the day of. I'm starting something new today, actually. First, I'm going to be doing a face pad, like a chemical peel, just to kind of remove any excess. And then I'll go in with an actual steamer just to kind of get [the groom's] pores opened up and get his skin moist. I'll put in some moisturizer just so that'll have time to set in, and he'll look gorgeous in his wedding sherwani.
I think grooms get services more often than what people know. And that's definitely the idea, right? You don't want to look at them and be like, 'Wow, look at that makeup!' (laughs) You want them to still look "like a dude" and be masculine. So I think the key highlight for a man is that he's on stage with stage lights on and high definition cameras, next to his spouse who looks super flawless and radiant. Like, the bride has, such a jumpstart, and the guy's just kind of all-natural...So [the goal] is not to make him look like he's flawless. It's more so to kind of color correct a little bit, and moisturize where it's needed if they get oily, and have them powdered. And, I mean, that's about it. It's like just little tweaks of finesse, you know?
I definitely think it should be okay if a guy's like, "Yeah, I have like a foundation or a touch-up stick in my toiletry bag." I think that should totally be okay. But I do still notice in society, most men don't want to talk about it. So the idea is that most guys don't hydrate their skin or prime it or powder it. So [we try to] make it look as effortlessly nice as possible without being overly flawless.
TL;DR: Be sure to consult with your skincare specialist leading up to your wedding day. And remember, a desi makeup look for gooms is often natural and effortless but that doesn't mean they shouldn't care about how they look.
PC: Ivy Weddings
AND FINALLY, WHAT ABOUT YOU? AS AN AWARD-WINNING MAKEUP ARTIST, WHAT KIND OF SKINCARE PRACTICES DO YOU FOLLOW AND RECOMMEND?
When you first start and look at all the products on the list, you're like, "Oh my god, this is super overwhelming." Because I felt that way just back in October when I started doing my at-home routine. But it's become so easy and so second nature for me. And so that's what [to my clients]. I just say, consider it your self-care. A little bit in the morning, little love in the evening, and then you're done.
For me, it's hard to balance everything. So there are times that I'm like, you know, I'm in the gym five days a week, and I'm meal prepping, and I'm taking all my vitamins and stuff. But then like my spiritual practice falls off where I'm not meditating every day. Because like, it's just hard. So if anything, if people have a hard time finding ways to fit that in. And then you just start 10 minutes earlier, you set your alarm for 10 minutes earlier in the day, or you get up before and you just make that your time to like get those things done.
From Alex's Instagram page:
1. Apply hylauranic acid and squalane to lock in moisture @deciem brand for both
2. Moisturize! I am obsessed with @tatcha the water cream. This product changed my life and I'm never going back!
3. Vitamin C serum. Woah! This is an anti ager for the skin. Protects from free radicals, pollutants etc @obagimedical
4. SPF.....y'all, I've always had the most sensitive skin. I never knew I could wear SPF without breakouts, real talk. I was really concerned with wearing reef safe product that will get rinsed down the drain so I found this mineral based product with @strivectin it's golden y'all
All Image Credits: Ms. Painted Lady
Need help with planning your dream Indian wedding in Dallas, Houston or Austin?
Use The Desi Bride Wedding Venue Concierge to find your luxury wedding venue
Find top Indian wedding hair & makeup artists in Dallas here
Find top Indian wedding hair / makeup artists in Houston here
Find top Indian wedding hair and makeup artists in Austin here
Fly in luxury celebrity Indian bridal hair and makeup artists for Texas Desi weddings from this list
Find top Indian wedding photographers in Dallas here
Find top Indian wedding photographers in Houston here
Find top Indian wedding photographers in Austin here
Fly in luxury celebrity Indian photographers for Texas Desi weddings from this list
Find other Indian wedding vendors for Texas South Asian weddings on The Desi Bride